Brettney Douglas-Al Hindi
How To Stay on Track with New Year's Goals/Intentions
Updated: Feb 20, 2020
If you're anything like me, setting new year's goals and intentions is easy, but sticking to them is something else.
Women are masters at multitasking; taking care of our family / home / relationship needs, work deadlines / obligations, going to school, and/or all the above; except when it comes to ourselves, we become last on our priority list.
We have too many things to do. Too many things on our plates. Too many commitments.
We play so many roles, wear so many hats, and adding on anything additional especially for ourselves takes a backseat.
It's a juggling act.
Year after year, we promise ourselves that this will be the year that everything changes, and somehow still end up falling short.
But it doesn't have to be that way, not if we take actionable steps that can help us follow through and make our goals more achievable.
1. Be specific.
Write the vision and make it plain. This is more than just a phrase or a bible verse, it's a recipe for success. Get clear on not only what your goals are, but also be realistic about what it will require to make it a reality. Whether you jot down your goals in a journal or create a vision board, be sure that you have a visual reminder of what you set out to accomplish. Make it personal! Remember, your goals are things that matter to you so get as detailed as you can and don't be afraid to dream big.
2. Celebrate small victories.
A big reason why people get discouraged is because they focus too much of their energy on the end result, that they do not recognize the progress that they have already made towards reaching their goals. Being able to measure how far you have come is so encouraging. Take time to bask in your small wins and acknowledge your hard work. Embrace the areas of growth that you have had, no matter how little it may seem, and use that as fuel to keep going. Remember that every day is a chance to start over, you can always begin again.
3. Use your village.
Look around you and take inventory of the people in your life. We all know that the key to getting ahead sometimes is not about what you know, but who you know, but use discernment. Make sure that these are people who genuinely want to see you win, and who see your success as an extension of theirs. Choose different types of people: someone who can motivate you, one who can empathize with you, a person to challenge you, and another who can hold you accountable. Sharing your vision with others can be a powerful exchange because they can help guide and empower you with strategies, connections, and resources that can help propel your dream/goal to the next level. Having a support system can help anchor you on tough days and give you the strength you need to keep believing in yourself. Plus, who wouldn't mind having their own personal Beyhive of supporters cheering them on?!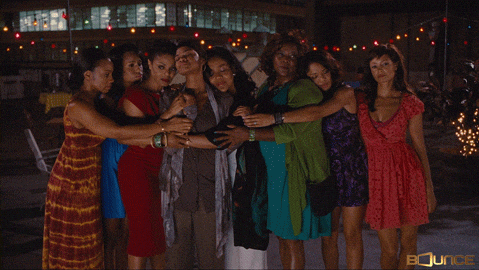 4. Develop a flexible mindset.
Face it, we are our own worse critics. We can think of a million ways why something won't work out and talk ourselves out of it before it even begins. When it comes to staying on track of your goals and intentions, mindset is everything. Things are subject to change, and you must prepare yourself for the inevitable by becoming proactive, rather than reactive. Our goals may not happen the way we envisioned or may take an unexpected detour that causes delays with the original timeline we set to accomplish it by, and that is where having a flexible mindset comes in. We must embrace the fear of the unknown and go on anyway and learn to trust the process. Arm yourself with the knowledge that feeds your mind and affirms your intentions. Be kind to yourself and extend yourself some grace. Don't obsess over every mistake. Give yourself permission to readjust and reset as often as you need to.
In this new year/decade, get out of the comfort of what is familiar and safe, and bet on yourself.
Be selfish for a change and go after the things you have always desired.
Be bold and breathe life into your vision and before you know it, you'll be ready to attack bigger goals.
You deserve it.